October 11th, 2023 – ASPHP Webinar: Playing It Safe: How to implement and apply safe patient handling practices in the pediatric hospital based setting.
Presented and recorded live October 11th, 2023 from 2 PM – 3 PM Eastern
Overview
Running, jumping, and playing, despite being hospitalized a child still wants to be a kid and it is our job to facilitate this as well as to keep them safe. The variability of the pediatric patient with multiple diagnoses, ages and developmental abilities combined with their impulsivity and love for play requires staff
collaboration, caregiver education, appropriate equipment and resources. In this presentation, we will define safe patient handling in a pediatric hospital based setting and highlight many unique challenges for this patient population.
Objectives – After this session, participants will be able to:
Define and describe the implementation of a safe patient handling program in a pediatric hospital based setting
Discuss common equipment used in the pediatric setting to assist with safe patient handling
Identify common considerations and care coordination for safety in the pediatric setting
Describe fall risk in the pediatric population and developmental considerations
Reflect on specific intervention ideas and treatment strategies through case study to translate knowledge acquired during the presentation into clinical practice
---
Meet the Speaker(s)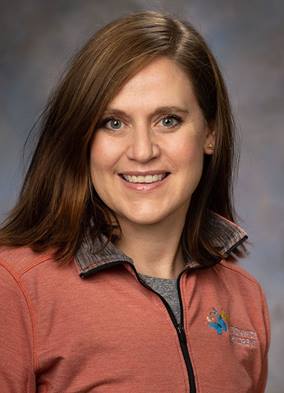 Jennifer Lane, MPT
Jennifer Lane, MPT, is an inpatient pediatric acute care therapist and inpatient physical therapy clinical leader at Nationwide Children's Hospital. She is one of the leaders and committee members of the Nationwide Children's Safe Patient Handling Committee. She is a member both the American Physical Therapy Association and the American Burn Association.
Jennifer has been a treating pediatric acute care physical therapist for over 20 years treating within a diverse patient population. She specializes in the pediatric comprehensive care of burn patients as well as complex orthopedic patients within the acute care setting.
Jennifer is the current coordinator of clinical education for inpatient physical therapy at Nationwide Children's Hospital and in this role has mentored and fostered the growth of not only future physical therapists but also current practicing therapists in their roles as clinical instructor. She is active within the Clinical Education Leadership Group and has partnered with physical therapy schools throughout the nation.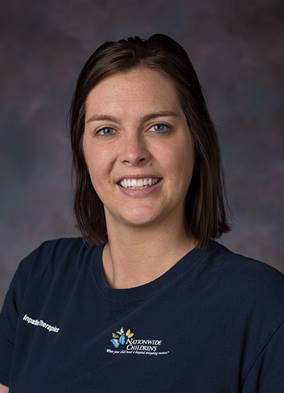 Erin Gates, PT, DPT
Erin Gates, PT, DPT is an inpatient physical therapist and evidence based practice coordinator at Nationwide Children's Hospital. She is currently serving the role as the vice chair of the APTA Pediatric Hospital Based SIG. She is a member of the American Physical Therapy Association and the Ohio Physical Therapy Association, with memberships in both the pediatric and acute care sections.
Erin has prepared and presented her research at local, state and national conferences, including the APTA Combined Sections Meeting. Erin has presented educational inservices on quality improvement, knowledge translation and implementation of evidence based practice and early mobilization topics to interdisciplinary teams across Nationwide Children's Hospital.
Erin treats a diverse patient population as an acute care physical therapist but specializes in the pediatric intensive care unit (PICU) and inpatient treatment of
pediatric patients with concerns for pelvic floor dysfunction. Erin has a strong interest in early mobilization in the PICU as well as serves as the therapist in PICU follow-up clinic. She also works closely with the Center for Colorectal and Pelvic Reconstruction for the establishment of the inpatient pelvic floor physical therapy programming. Erin is also actively involved in the development of the pediatric laboratory values interpretation resource for the APTA Acute Care academy.
Provider approved by the California Board of Registered Nursing, Provider Number CEP 15826, for 1 contact hour.
---
Once the payment is confirmed, you will receive a confirmation email with link to register* to the webinar.
*You must register to be able to access to the webinar. Check your spam folder if you do not receive the registration email after purchase.
Please log in for member registration.