March 8th, 2023 – Evaluating Mobility: Assessments, Screenings, Competency and Scope of Practice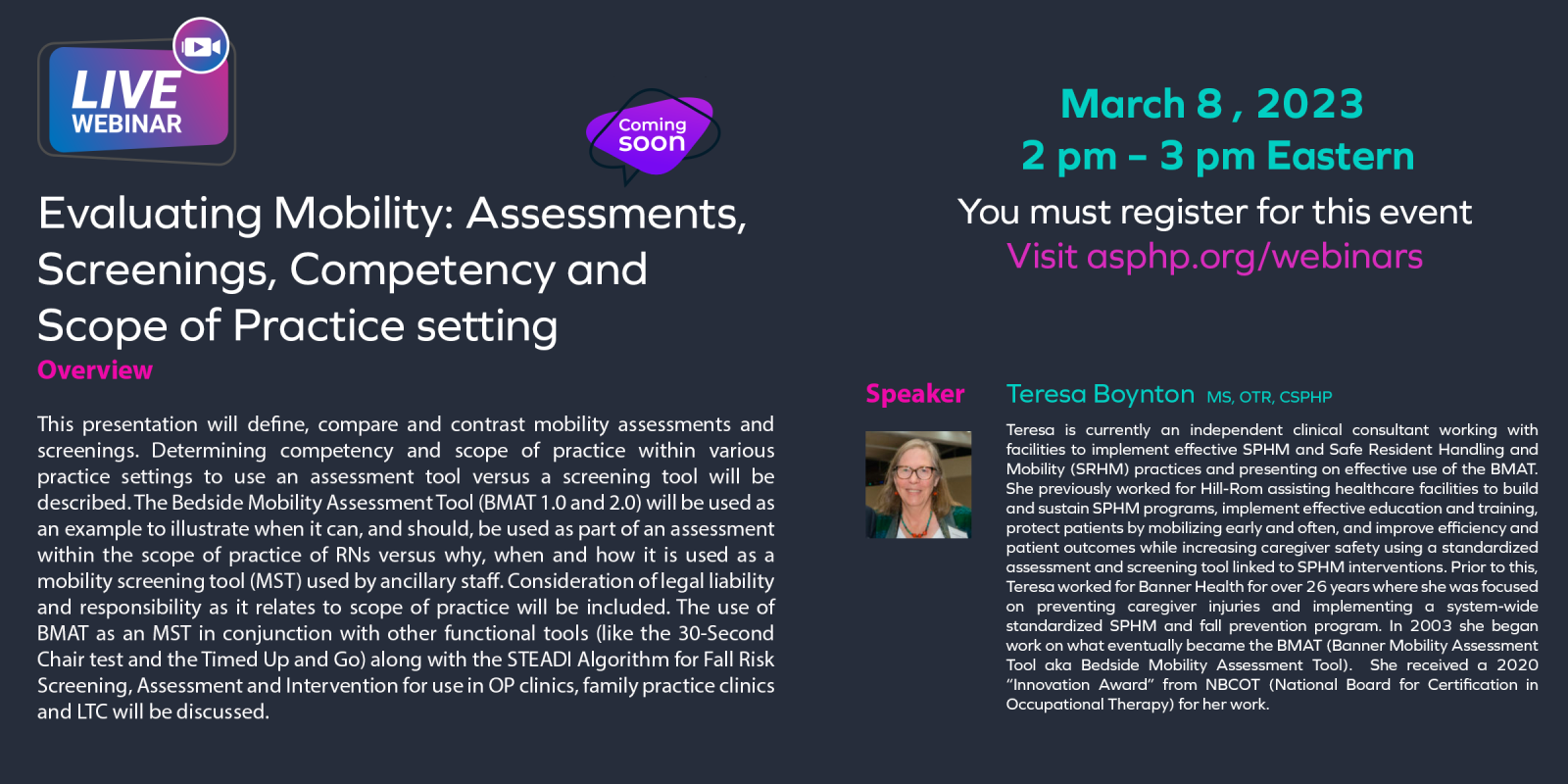 Presented and recorded live March 8th, 2023 from 2 PM – 3 PM Eastern
Overview
This presentation will define, compare and contrast mobility assessments and screenings. Determining competency and scope of practice within various practice settings to use an assessment tool versus a screening tool will be described. The Bedside Mobility Assessment Tool (BMAT 1.0 and 2.0) will be used as an example to illustrate when it can, and should, be used as part of a comprehensive assessment within the scope of practice of RNs versus why, when and how it is used as a mobility screening tool (MST) used by ancillary staff. Consideration of legal liability and responsibility as it relates to scope of practice will be included. The use of BMAT as an MST in conjunction with other functional tools (like the 30-Second Chair test and the Timed Up and Go) along with the STEADI Algorithm for Fall Risk Screening, Assessment and Intervention for use in OP clinics, family practice clinics and LTC will be discussed. Coding, tracking and trending PHIs and how this led to improvements in a hospital systems SPHM program and implementation of the BMAT will be briefly covered.
Objectives – After this session, participants will be able to:
Improve ability to differentiate assessment vs screening tools
Clarify scope of practice and liability issues
Describe competency models for determining ability to reliably evaluate a patient's current/in-the-moment mobility status
Understand use of the BMAT in conjunction with other mobility screening tools
Understand how accurately coding, tracking and trending of injury data led to focused SPHM program improvements and implementing the BMAT both as an assessment and as a mobility screening tool
---
Meet the Speaker(s)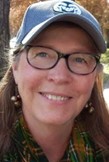 Teresa Boynton, MS, OTR, CSPHP
Teresa is currently an independent clinical consultant working with facilities to implement effective SPHM and Safe Resident Handling and Mobility (SRHM) practices and presenting on effective use of the BMAT.
She previously worked for Hill-Rom assisting healthcare facilities to build and sustain SPHM programs, implement effective education and training, protect patients by mobilizing early and often, and improve efficiency and patient outcomes while increasing caregiver safety using a standardized assessment and screening tool linked to SPHM interventions.
Prior to this, Teresa worked for Banner Health for over 26 years where she was focused on preventing caregiver injuries and implementing a system-wide standardized SPHM and fall prevention program. In 2003 she began work on what eventually became the BMAT (Banner Mobility Assessment Tool aka Bedside Mobility Assessment Tool). Based on feedback received over the past 7+ years, she developed BMAT 2.0.
She received a 2020 "Innovation Award" from NBCOT (National Board for Certification in Occupational Therapy) for her work. Teresa is a longtime member of ASPHP and works on the Certification and Exam Committees.
She frequently lectures on the BMAT and its use as part of a comprehensive assessment and screening tool.
Provider approved by the California Board of Registered Nursing, Provider Number CEP 15826, for 1 contact hour.
---
Once the payment is confirmed, you will receive a confirmation email with link to register* to the webinar.
*You must register to be able to access to the webinar. Check your spam folder if you do not receive the registration email after purchase.
Please log in for member registration.