November 17, 2021 – Not All Air Friction Reduction Devices are Created Equal: The process we went through to select a product for our Health System.
Presented live November 17th, 2021 2 pm – 3 pm Eastern
Overview
Our Health System needed a new Friction Reduction Device (FRD) to reduce team member injuries and to mobilize patients in bed with 2 caregivers. Our goal was to find an air FRD (AFRD) that could stay under patients and keep our team members safe and under 35 lbs when mobilizing patients with just two team members. Most AFRDs say they can reduce body weight a caregiver has to move by 75-90%, but the cost varies from $60-$170 per unit for the SPU items. Cost analysis at our facility determined the most expensive device when using our criteria of having a device under every patient over 200 lbs could be as much as a 2.5-$3million dollar increase in annual spending. Our CNO tasked our team to review products and make a recommendation for our health system.
We obtained samples of 4 products and their air supplies or blowers, we will reviewed how we compared many features: friction reduction, size, weight capacity, different sizing options (e.g. bariatric/pediatric sizes), blower noise measured in AMPs, and cost.
The biggest difference was seen in measurements of friction reduction, we used a calibrated push pull meter (Desik Mechanical Force Guage Model FB/PS/DL) attached to the device nearest patients right shoulder. We measured the lbs of force required to boost a patient up in bed. We placed the patient(s) supine and flat on the devices in our acute care bed with our hospital's custom fitted sheets, with two different bed settings. The first trial was performed on both patients with the bed in normal setting, and the second trial being performed with both patients on the mattress firmed in the max inflate setting. We trialed each patient on the 4 AFRDs in the two bed settings boosting them 3 times uninflated and 3 times inflated or with air. We then averaged the 3 force measurements needed to boost the patients up in bed and perform lateral transfers. We also tested on our ICU beds which have a different mattress.
We found that for the 200lb patient only the third and fourth AFRD kept your safe or under 35 lbs of ANA guidelines when inflated.
We found that the 4th product did match its advertised friction reduction of 90% of the patients' body weight, and that if we used the Max inflate bed feature on our acute care beds we were able to achieve 92% friction reduction and be well below the ANA guidelines of 35lbs. Instead of a projected multimillion dollar increase in cost with the most expensive device, we recommended the 4th product and are currently saving an average of $40,000 a month compared to our previous product, and we have seen a drop in our boosting/repositioning injuries even with Covid over the last quarter.
We also learned that hands on training and in the moment education was key and was a great opportunity to review proper turning techniques and sacral floating this helped reduce HAPI's in one of our ICU units.
We will also review some learnings post implementation when handling patients of size, turning and provided sacral pressure relief, working with team members of different heights, and special considerations for skin when deciding the best devices for your facility.
Objectives – After this session, participants will be able to:
Learner will be able to list three features to consider when air friction reduction devices
Learner will be able to state important components of hands on training with air friction reduction devices
Learner will be able to list three aspects of air friction reduction devices that may help protect patients skin reduce risk of HAPI's
Meet the Speakers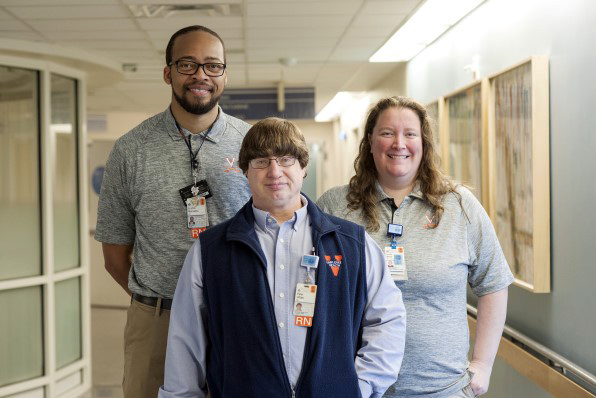 Leslie Smith Wood, PT, DPT, CSCS
Physical Therapist for 18 years, working outpatient and inpatient, primarily focused on orthopedic population before getting involved in team member injury reduction at hospital. Currently SPHM Team Lead and Interim Safety Coordinator at UVA Health System.
Ibrahim "Leo" Mamadou, RN
RN with over 6 years clinical experience orthopedic focus, participating in a multitude of quality improvement committees and currently serving as SPHM Team Lead since 2018 at University of Virginia Health System.
Peter Urban, RN, CEAS
Peter recently Retired from UVA (May 2021) after nursing for 30 years, he spent the first 12 years of his career as pediatric bedside nurse. As his career evolved and progressed to conducting research and working for Employee Health Safety Coordinator and Injury Prevention Specialist at University of Virginia. Peter performed ergonomics assessments and helped found, promote and support the Safe Patient Handling Team.
Provider approved by the California Board of Registered Nursing, Provider Number CEP 15826, for 1 contact hour.
– – – – – – – – – – – – – – – – – – – – – – – – – – – – – – – – – – – – – – – – –
Once the payment is confirmed, you will receive a confirmation email with link to register to the webinar.
You must register to be able to access to the webinar. Check your spam folder if you do not receive the registration email after purchase. 

Please log in for member registration.
This webinar is FREE for ASPHP members. Not a member, join and save!