October 13, 2021 – Early Mobility in the ICU and how it Influences Post Intensive Care Syndrome in the Covid-19 Pandemic
Presented live October 13th, 2021 2 pm – 3 pm Eastern
Overview
As healthcare workers we have been challenged over the past 18 months by a pandemic that continues to surge. As ICU clinicians, we are hopeful when patients with critical illness survive, and grateful for the interdisciplinary team's efforts in coordinating the necessary care. However, we also have to consider the continuum of care and how our interventions may have a short term and long term impact on our patients' overall health and abilities after they leave the hospital. We will explore the healthcare disparities that continue overall, how they impact care, and solutions for dealing with the long term effects of PICS. Following hospital discharge for some patient groups, awareness and access to resources may be limited. This presentation will take some of those factors into consideration and identify resources and strategies available to raise awareness and improve access to help improve outcomes for patients with COVID-19 who have survived critical illness, but may have a long road to full recovery.
Objectives – After this session, participants will be able to:
Understand the significant challenges presented in COVID-19 patients in the critical care environment and following hospitalization
Describe Post Intensive Care Syndrome: Review of pertinent literature
Understand how Early Mobility can influence PICS
Meet the Speaker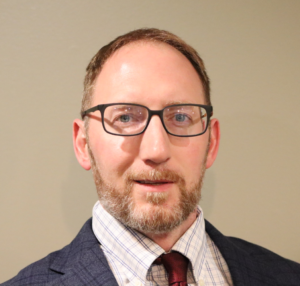 Robert Masterman MSPT, CSPHC
Rob is Physical Therapist who works primarily in the ICU and is the Co-Chair of the Safe Patient Handling and Mobility Team at URMC-Highland Hospital in Rochester, New York. He has assisted with the development of SPHM education used in affiliation with the University of Rochester Medical Center. He has 17 years of experience in acute and rehabilitation settings. He is a Certified Safe Patient Handling Clinician and has articles published in the International Journal of SPHM. Past speaking engagements include Highland Hospital's Acute Caring for Elders Day and Clinical Grand Rounds, ASPHP webinar presentations, the SPHM Summit panel on Challenging Patients, ASPHP's National Educational Event in 2020, and as a guest lecturer on SPHM for the Wegman's School of Nursing at St. John Fisher College. He also co-presented a webinar on behalf of Arjo Global entitled: COVID-19: Rehabilitation journey from the Intensive Care Unit across the continuum of care to home. Mr. Masterman sits on the Board of Directors and is a member of the executive team as the current President of ASPHP. He is currently involved in research on early mobility, as well as Co-Principal Investigator for a study on the Effect of SPHM Coordinators on Work-Related Musculoskeletal Injuries, Proximal Mental Illness, and Patient-Related Safety Events in New York State Intensive Care Unit Registered Nurses in the Age of Covid-19.
Provider approved by the California Board of Registered Nursing, Provider Number CEP 15826, for 1 contact hour.
– – – – – – – – – – – – – – – – – – – – – – – – – – – – – – – – – – – – – – – – –
Once the payment is confirmed, you will receive a confirmation email with link to register to the webinar.
You must register to be able to access to the webinar. Check your spam folder if you do not receive the registration email after purchase. 

Please log in for member registration.