October 14, 2020 – Challenging SPHM Cases in Critical Care
Presented live October 14th, 2020 2 pm – 3 pm Eastern
Overview
This presentation highlights 3 critical care cases and the considerations and accommodations that must be made by the interdisciplinary team to successfully incorporate early mobility into their care plans. Communication is key during attempts to mobilize in the Intensive Care Unit and high reliability practices help to make mobilization successful. There are many hurdles and barriers that exist, but with adequate preparation, proper leadership and policies/procedures we can mobilize even the most medically complex patients. We must also acknowledge that every situation can be turned into a learning opportunity.
Objectives – After this session, participants will be able to:
Describe potential barriers to safe patient handling from challenging patients and/or complex clinical situations in critical care.
Identify SPHM program elements and high reliability practices that may help ensure safety for caregivers and patients during complex situations.
List leadership qualities and areas of expertise that may help ensure safety during complex SPHM situations.
Identify gaps in existing SPHM policies, programs, equipment and knowledge that might hinder maintaining safety when performing patient handling or mobility in complex clinical situations.
Meet the Speaker
Robert Masterman, MSPT, CSPHC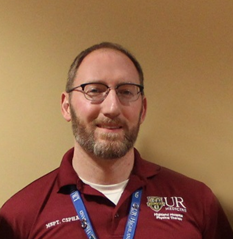 I have been a Physical Therapist for 14 years. I began my career working in rehabilitation at skilled nursing facilities. I have worked at Highland Hospital for 13 years, primarily in the step-down unit and now as the primary therapist in the ICU. I am the Co-Chair of the Safe Handling Task Force and have given numerous lectures on Safe Patient Handling and Mobility, including at Highland Hospital's Geriatric Teaching Day, Clinical Grand Rounds and St. John Fisher College as a guest speaker for the Wegman's School of Nursing. I have also been a panelist for an ASPHP webinar about complex medical cases and have been published in the International Journal of Safe Patient Handling and Mobility.
Provider approved by the California Board of Registered Nursing, Provider Number CEP 15826, for 1 contact hour.
– – – – – – – – – – – – – – – – – – – – – – – – – – – – – – – – – – – – – – – – –
Once the payment is confirmed, you will receive a confirmation email with link to register to the webinar.
You must register to be able to access to the webinar. Check your spam folder if you do not receive the registration email after purchase. 

Please log in for member registration.