ASPHP Dec 2019 Newsletter – Special Edition with Certification Spotlight and Announcement
Editor: Beth Furlong, PhD, JD, RN
December 2019 Guest Column
Something is Missing from Your SPHM Program?
Robert Masterman, MSPT, CSPHC
Do you ever feel like something is missing from your SPHM program? It may be a lack of support from senior leadership, limited buy in from bedside caregivers or that you have a program that is not self-sustaining. Many SPHM programs start strong with a well-presented business case, leadership-sponsored support, purchase of new SPH equipment, policy implementation, initial in-service training and a group of similarly minded people who aim to help protect patients and caregivers from injury.
So why do many SPHM programs (like some other hospital initiatives) fizzle out after starting with a 'Big Bang' of enthusiasm? We have found it mostly has to do with collaboration, follow up and accountability. If any of these components are lacking, the program will struggle to stay on track. At our hospital, the SPHM team has existed in some way since 2007. We have had multiple derailments along the way, but I would like to share a few ideas that have helped us to move forward in a positive direction on our journey.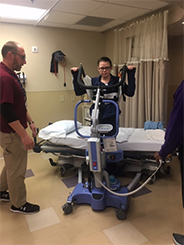 Initial SPHM training is part of Patient Centered Care Orientation (PCCO). We are in a state (NY) that has passed SPH legislation and requires initial and ongoing training as one of the mandates. We had been teaching an introduction to SPH for well over a decade prior. Looking back ten years ago, we had an hour to cover an overwhelming amount of material, and hands on time for learning was limited. The current presentation has been updated every six months to remain current. New employees who have clinical roles spend 2.5 hours with me and our CSPHAs who are also Lead PCTs on their work units.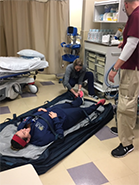 After a brief didactic presentation about the importance of SPHM, participants spend the rest of the time with hands on learning with reference to case studies and use of BMAT for nurses or the Egress Test for other bedside caregivers. We know that being able to speak to how the equipment is used can be different than actively using and demonstrating competent use (Khan, 2012). Following our session, participants are assigned an initial SPHM Achieve (computer-based learning) module to demonstrate a foundation of knowledge and application of techniques and equipment.
SPHM Unit Representatives
Our SPHM unit representatives are selected by their managers or volunteer based on their interest or current roles and responsibilities. The majority of our unit reps are experienced PCT's, and we also have some LPN's and RN's in the role. They work closely with our unit educators and attend our monthly committee meetings. We have a SPHM Retreat twice a year to meet with the SPH unit reps and spend time getting acquainted with the equipment and each other. They are charged with rounding on their units, checking equipment and PAR levels, reporting damaged equipment or equipment in need of service, staff recognition and assisting with ongoing training as they are familiar with the culture on their respective units.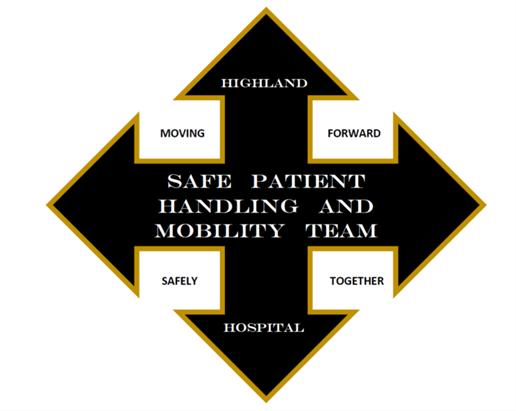 Ongoing Training
We review injury data quarterly with our Leave Administrator and HR manager to help determine where to start ongoing SPHM training. We track the high frequency departments, which had a range of 1 to 7 injuries for 2019. We found that six of the departments were on the high frequency list for 2018 as well. We started by focusing ongoing training on these units where it was needed most and scheduled a 'SPH Month" for each patient care unit. Ongoing training takes place in small care groups of 2-5 participants on all three shifts. It lasts typically about 1 hour, depending on the size of the group. We review the use of the floor based SPH equipment, our air assist devices and friction reducing device. We relate SPH practice and a culture of safety back to the policies, the Bedside Mobility Assessment Tool and the Egress test depending on the audience. The participants take turns acting as the patient and the caregiver when possible to be able to relate and learn from the experience in both roles (Lee et al, 2018). We have found it is equally important to be able to relate back to Universal SPHM when educating. Following the hands on training, staff are again assigned an online Achieve module to help with retention of concepts and to test knowledge and application.
If you have trouble getting staff to attend, we found that reaching out multiple times prior to the training to the SPH unit reps, unit educator and nurse manager is imperative to the success on the unit. A midpoint check is completed with the nurse manager and accountability emails are sent to all staff who have not completed the training half way through the month. We emphasize that this is mandatory training, and that if staff attend outside of their scheduled work shift, then they are paid for their time. It is the responsibility of the SPH unit rep to meet with staff members who are unable to attend.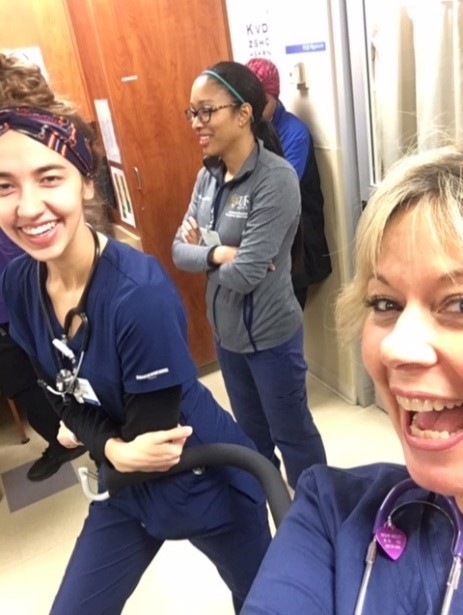 Sometimes enthusiasm from staff can fluctuate. Comments that we hear: "We just did this in orientation." "I don't have time for this." "I know this stuff; I've been a tech for 20 years." Helpful responses: "This is ongoing training and it is required by law. Today we are going to focus on not just knowing but showing that you know what to do." "Things may have changed a little, I would be surprised if we don't learn something from each other." And my final message as they are leaving is this: "Go and show a coworker something that you learned, protect them, protect yourselves and keep your patients safe from injury."
Positive Reinforcement and Collaboration
We set up a program to recognize staff members for using safe patient handling techniques or equipment that were practiced during hands on training. Following their SPHM month, the nurse manager or unit educator on every patient care unit is provided with five "SPH Shining Example" certificates and five $5 gift cards that can be used in our gift shop, coffee shop or cafeteria. Every month following, a staff member is recognized for positive behavior reflective of SPHM in practice. This helps to keep the conversation about SPHM going for a full six months including training, instead of just focusing on revisiting a full year later.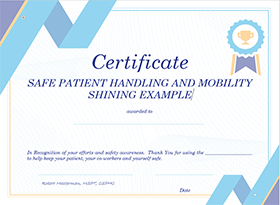 We continue to work with our Nursing Professional Development team and Nursing Steering Committee to find effective ways to communicate with and educate our staff. It is a constant learning experience, and there is a lot of trial and error initially until you find what works for your organization.

A consistent message from all staff will help to keep your SPHM program moving forward in a positive direction. We must focus on rewarding for the safety of care and not the speed of care which we are providing. Ask those who have attended ongoing training to share with their colleagues what they have learned. Challenge them to use some of the techniques that they have learned with patients and colleagues during the next week. This is not easy work to do, but it is necessary and rewarding. Remind your staff that it takes a collaborative effort and a unified voice to maintain a SPHM program within a culture of safety.
References:
Lee, C, DNP, RN, ACNS-BC , Knight ,SW, DNP, RN, Smith, SL, PhD, RN, Nagle DJ, MSN, RN-BC, DeVries, BA, MA, LPN. Safe Patient Handling and Mobility: Development of a Large-Scale Education Program. Critical Care Nurse Quarterly 41 (2018): 253-263.
Khan, K, and Ramchandran, S. Conceptual framework for performance assessment: Competency, competence and performance in the context of assessments in healthcare – Deciphering the terminology. Medical Teacher 34 (2012) 920-928.