Advance your Career by becoming Certified!
The ASPHP is proud to be the standard-bearer of the SPHM profession.  The Certified Safe Patient Handling Professionals™ offers individuals the opportunity to become recognized for having the specialized skills, knowledge, and experience needed to make safe patient handling and mobility programs successful and sustainable.  Across the continuum of care, administrators and managers look to certified SPHM professionals to lead facility efforts by promoting improved patient/resident outcomes and keeping their employees safe.  Become the one they know they can count on to make a difference!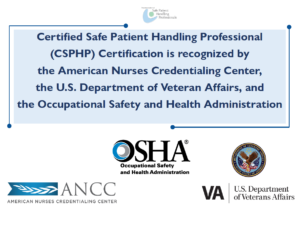 APPLICANTS



CERTIFICATION  VALUE AND OVERVIEW
In an effort to make your certification process a successful one, please review our Certification Handbook prior to submission of your application.    
ASPHP Certification Program Brochure 
Is Certification Right for Me? 
Defining the Skills of a Successful SPHM Manager
Click here to view the brief videocast on ASPHP Certification
CURRENT CERTIFICANTS
For a current list of SPHM professionals who hold the Associate, Clinician, and Professional certification credentials, please see our ASPHP Certificants List.
*Please note:  This list is updated monthly.  Additionally, some certificants have elected to not have their name published in this registry.
CERTIFICATION PROCESS
Are you ready to elevate your career to the next level?  Our Certification Handbook will provide you with the information and tools necessary to take the next step.  Please refer to this resource for more information on certification requirements, fees, Professional Development (PD), examinations and examination preparation, and more…
Mentoring Program
Ready to apply, but wish you had assistance?  The Professional Certification's Mentor Program was designed to offer the guidance you need as you apply for your certification.  All of our mentors are highly experienced SPHM professionals who have gone through the certification process themselves.  Mentors are available for all certification levels and are here to answer any questions you may have regarding requirements and the certification process.  While our Mentor Program does not guarantee approval, it does ensure that your portfolio is as thorough and as accurate as possible.  Please refer to the Certification Handbook for more information on how to be connected with a mentor.
Applications
Once you have determined which certification level to pursue, please download the appropriate application.  If you are unsure of what certification level is most appropriate, a Professional Certification mentor can assist.  Please refer to the Certification Handbook for applicable fees and required verification documentation.
After completing the application, thoroughly review the form to ensure all required information and documentation is included.  Applications should be completed in their entirety and submitted via email to info@asphp.org.  Encrypted files will not be accepted, as ASPHP is unable to open them.  Incomplete applications or applications not completed according to certification guidelines will be returned to the applicant for resubmission.  *Please Note:  Applications that are submitted on forms not approved by the Professional Certification will not be accepted.
All applicants will receive a confirmation email following the submission of their application.  Please allow at least 3 business days for processing.  If you do not receive a confirmation email within 3 business days, please contact Professional Certification immediately.  Failure to do so may impact the ability of Professional Certification to proceed with the application process.
CSPHA Application – please download the form and save to your hard drive before completing.
CSPHC Application – please download the form and save on your hard drive before completing.
CSPHP Application – please download the form and save on your hard drive before completing.
CERTIFICANTS



Examinations

**Change to June 2020 Certification Examination Schedule/Location

The exams for both Clinical and Professional applicants will be offered online.  Please refer to pages 18-25 of our Certification Handbook for complete information about the online examination process. 
We appreciate your understanding and apologize in advance for any inconvenience this causes.  For any questions, please contact us at info@asphp.org.
Following a portfolio evaluation, only those CSPHC or CSPHP applicants who are approved will be invited to take the exam.  Applicants will have the ability to schedule the exam for one of the following dates and times:
MONTH
DAY
TIME
LOCATION
February 2020
Friday, February 28, 2020
8:00pm EST
Online
March 2020
Wednesday, March 4, 2020
TBD
San Diego
(ASPHP Educational Event)
April 2020
Friday, April 24, 2020
4:30pm EST
Online
June 2020
Tuesday, June 2, 2020
TBD
Orlando
(VA National SPHM Conference)
August 2020
Friday, August 28, 2020
8:00pm EST
Online
October 2020
Friday, October 23, 2020
4:30pm EST
Online
December 2020
Friday, December 18, 2020
8:00pm EST
Online
For more information on the examination process, please refer to the Certification Handbook.
Once you have been awarded your certification, please refer to our Certification Handbook for all information pertaining to the maintenance of your certification.  This includes, but is not limited to, our Certificant Code of Ethics, use of the credential, revocation and suspension, and certification maintenance and audit/renewal.
Self-Directed Learning Form
Sample Self-Directed Learning Form
If you have any additional questions, please do not hesitate to contact us so that we may assist you.  All inquiries should be emailed to ASPHP Headquarters at info@asphp.org.  Alternatively, you may reach us via telephone at (610) 248-9911.  Thank you for your interest in Certified Safe Patient Handling Professionals™ !