Advance your Career by becoming Certified!
The ASPHP is proud to be the standard-bearer of the SPHM profession. The ASPHP Certification Program offers individuals the opportunity to become recognized for having the specialized skills, knowledge, and experience needed to make safe patient handling and mobility programs successful and sustainable. Across the continuum of care, administrators and managers look to certified SPHM professionals to lead facility efforts in promoting improved patient/resident outcomes and keeping their employees safe. Become the one they know they can count on to make a difference!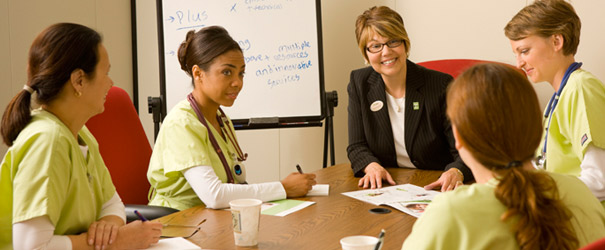 CERTIFICATION VALUE AND OVERVIEW

Click here to view the overview on ASPHP Certification.
In an effort to make your certification process a successful one, please review our entire certification website and all accompanying documents with instructions prior to submitting an application. For those applicants applying for the Clinician and Professional certifications, please ensure you read our Certification Handbook in preparation for taking your exam.
Defining the Skills of a Successful SPHM Manager

CURRENT CERTIFICANTS
For a current list of SPHM professionals who hold the Associate, Clinician, and Professional certification credentials, please see our ASPHP Certificant List
*Please note: This list is updated monthly.
ASSISTANCE WITH CERTIFICATION PROCESS
Mentoring Program: Ready to apply, but wish you had assistance?
The ASPHP's Mentor Program was designed to offer you the guidance you need as you apply for your certification. All of our mentors are highly experienced SPHM professionals who have gone through the certification process themselves. They are here to provide you with advice and answer any questions you may have regarding requirements and the certification process. Mentors are available for all certification levels. While our Mentor Program does not guarantee approval, it does ensure that your portfolio is as thorough and as accurate as possible. If you are interested in being connected with a mentor, please contact Sasha M. Latvala (sasha.latvala@gmail.com), Kelsey McCoskey (kelseylmot@yahoo.com) or Patti Wawzyniecki (patti.wawzy20@gmail.com).
CERTIFICATION WEBINAR
Potential Applicant?: Hear valuable expert advice from our Certification Committee
This webinar provides potential applicants with an overview of the application, review, and maintenance process, as well as the expected qualifications and requirements for all three levels of certification with definitions and examples. The webinar covers approved documentation for each of the requirements, along with information about common misunderstandings and gaps seen in application packets. Committee members also review how to complete a sample CSPHC application using examples from a portfolio of a potential applicant. Download a copy of PowerPoint Presentation here.
Certification FAQ
To assist you in completing your application, the ASPHP Certification Committee has developed the ASPHP Certification FAQ 2019
CERTIFICATION PROCESS
1: Requirements for Certification Levels (Associate, Clinician and Professional)
Determine the most appropriate certification level for you with our Certification Level Guidelines.
2: Application Fees
Review Fee Schedule
3: Professional Development: Approved Categories and Documentation Requirements
Professional Development (PD) hours are defined as educational activities intended to expand the knowledge and skills of Safe Patient Handling and Mobility (SPHM) certificants in the Nine Core Competency areas. Categories include attending or presenting at conferences, workshops and seminars focused on SPHM or closely-related healthcare topics; engaging in independent study; providing SPHM equipment in-services; publishing journal articles; participating in ASPHP committees; and pursuing other activities that advance the field of SPHM.
Review the approved options for earning Professional Development hours here.
Sample Self-Directed Learning Form
4: Applications and Evaluation Process
Once you have determined which certification you will be pursuing, please download the appropriate application to your computer and complete the application worksheet in its entirety. If you are unsure of what certification level is most appropriate for you, one of our mentors can assist you.
CSPHP Application – please download the form and save to your hard drive before completing.
CSPHC Application – please download the form and save on your hard drive before completing.
CSPHA Application – please download the form and save on your hard drive before completing.
Once you have completed the application, thoroughly review the form to ensure that you have included all information and documentation required within your portfolio. Applications should be submitted in their entirety via email to info@asphp.org. Encrypted files will not be accepted, as we will be unable to open them. Payment should be submitted along with your application. For credit card payments, please complete all information required within the application. For payment by check, please make checks payable to the ASPHP Certification Program and mail to: 125 Warrendale Bayne Road, Suite 375, Warrendale, PA 15086. Once your application has been received, you will receive a confirmation email.
Applicants should receive an email following the submission of their application. Please allow 3 business days for processing. If you do not receive a confirmation email, please contact ASPHP immediately to inquire about your application status.
Incomplete applications, or applications not completed according to certification guidelines will result in a return to the applicant. All fees are non-refundable.
*Please note: Applications that are not submitted on the forms above will NOT be accepted.
5: Examinations: Process and Resources
The Certification and Renewal Committee evaluates CSPHC and CSPHP applications in teams of three, each conducting their evaluation independently. After the first two evaluations are completed, if consensus among the review team is not reached regarding the applicant's approval, they meet to discuss the application. Often, additional information is requested from the applicant to answer reviewers' questions. If a CSPHC or CSPHP applicant is approved by the review team, a confirmation review is also conducted by the Chair of the Certification Program. If the Chair concurs, the applicant is invited to sit for the exam. If the applicant passes the exam, the CSPHC or CSPHP designation is awarded.
If a CSPHA applicant meets the requirements upon review, they are immediately awarded the designation. This certification level does not require an exam. If for any reason an applicant is not approved, their application will remain open for the remainder of the 12-month period directly following receipt of the application and fee so that they have the opportunity meet any outstanding requirements.
The CSPHC and CSPHP Examination
The examinations are based upon the Nine Core Competencies. Applicants are strongly encouraged to review these skill areas prior to taking the exam.
Certification Examination Preparation
Exam Details
When the portfolio of the CSPHC or CSPHP applicant has been approved, the candidate will be informed via email. He/she will also receive a link through which the Exam and Exam information can be accessed. Candidates will have 30 days from receipt of this information to take the exam. Anyone requiring and additional 30-day extension will need to submit an additional fee.
*Please Note: This exam CANNOT be "parked" to return to at a later time. Once the Exam has been opened, the clock begins running and the person taking the exam will be "locked-out" after 60 minutes for the CSPHC and 90 minutes for the CSPHP.
Candidates will receive notification of their Pass/Fail status immediately following exam completion. Those who do not have a passing score may apply to take the exam again following a 45-day waiting period with a fee. If after taking the exam the second time, the candidate still does not pass the exam, he/she may elect to take the exam one more time following another 45-day waiting period for an additional fee. If the candidate does not have a passing score after taking the test a third time, they will be eligible to reapply for the entire CSPHC or CSPHP process following the passage of one-year after the initial application date.
6: Certification Maintenance and Renewal Requirements
Maintenance and Renewal Information
Annual Certification Maintenance
CSPHA, CSPHC and CSPHP certifications are subject to an annual certification maintenance fee. Please refer to the Fee Schedule for payment information.
Certification Renewal Cycle
The renewal cycle for all certificants is 3 years. Certificants must receive professional development hours during each three-year renewal cycle:
CSPHA – fifteen(15) hours
CSPHC – twenty four (24) hours
CSPHP –thirty-six (36) hours
Please track your required Professional Development hours as you earn them so that if you are selected for audit at the end of your three-year cycle, you have your Professional Development information available. Those certificants selected for audit must submit all PD hours on our PD Audit Tool along with accompanying verification documentation. The PD audit tool contains drop-down boxes to assist in identifying PD hour type, Skill Code, and the number of hours earned. Here  is sample to learn more on how to use the PD Audit Tool, download Sample PD Audit Tool here. 
Review the approved options for earning Professional Development hours here.
7: Appeals
Appeals Process
If you have any questions after you have reviewed all of the information provided, please do not hesitate to contact us so that we may assist you. Please email all inquiries to ASPHP Headquarters at info@asphp.org or call us at (610) 248-9911. Thank you for your interest in ASPHP!