Archived Webinar: The Importance of Achieving Competence in SPHM Education and Training
Presented live August 14, 2019 2 pm – 3 pm Eastern
Overview
One of the key components to ensuring that a SPHM program is successful is competence; but what does this mean in relation to SPHM education and training? Having staff that are well-versed in the basic functions of SPHM technology does not equate to competence. Rather, staff need to know how to take the applied knowledge and skills they have acquired and effectively apply them to real-world clinical scenarios on a daily basis (e.g. post-fall recovery, complex bariatric cases, mobilizing a patient with partial weight-bearing restrictions).
Standard 5 of the ANA's Safe Patient Handling and Mobility: Interprofessional National Standards refers to establishing a system of education, training and maintaining competence. Organizations who strive to achieve a culture of safety must provide their staff with the time and resources necessary to achieve competence, as this ultimately helps to build compliance within a program and will encourage staff to serve as a role model for safe behavior.
Objectives – After this session, participants will be able to:
What is competency and how is it achieved in SPHM education and training?
What are the barriers to participation? What are their implications?
How do you overcome the barriers to participation?
What does the ANA Interprofessional Standards say about competence?
Meet the Speaker
Sasha M. Latvala, BS, CSPHP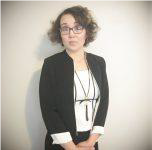 Sasha is a Safe Patient Handling and Mobility Consultant with over 15 years of experience in acute, rehab and long-term care settings. She provides education to healthcare personnel across the continuum of care and has lectured on SPHM and the benefits of mobility. Additionally, she conducts risk-assessments, develops and implements SPHM programs, and provides expertise on the installation and procurement of SPHM equipment for renovation projects and new builds. She has published research on SPHM program development and implementation in the International Journal of SPHM. In 2016, Sasha was a part of the URMC-Highland Hospital's Safe Handling Task Force, which received an Excellence Award for Quality & Safety.
Sasha received her Bachelor of Science from Drexel University and holds a Certification as a Safe Patient Handling Professional. While the vast majority of her time has been spent on the clinical side, she has also had the opportunity to work on the vendor side, giving her a well-rounded perspective. As an active member of the ASPHP, Sasha sits on the Board of Directors and is the Chair of the Certification and Renewal Committee. Her passion is to educate caregivers and healthcare organizations on how to safely mobilize patients, decrease workers' compensation rates, and ultimately improve patient outcomes.
– – – – – – – – – – – – – – – – – – – – – – – – – – – – – – – – – – – – – – – – –
Once the payment is confirmed, you will receive a confirmation email with link to register to the webinar.
You must register to be able to access to the webinar. Check your spam folder if you do not receive the registration email after purchase. 

Please log in for member registration.