OSHA Reviewing Credentials for Experience of Individuals Administering SPHM Programs.
On June 25, 2015 OSHA issued the subject information that establishes guidance for inspections conducted in inpatient healthcare settings including hospitals, nursing and residential care facilities.  All such inspections, programmed and un-programmed, will cover the focus hazards included in the recently-concluded National Emphasis Program – Nursing and Residential Care Facilities, CPL 03-00-016 (NH-NEP):
Musculoskeletal disorders (MSDs) relating to patient or resident handling
Workplace violence (WPV)
Bloodborne pathogens (BBP)
Tuberculosis (TB), and
Slips, trips and falls (STFs)
One specific question they ask regarding SPHM is "What are the credentials or experience of the individual responsible for administering the program?".
Please see attached memo from the ASPHP.  It identifies steps you can take to satisfy this OSHA requirement.
ASPHP Memo OSHA Evaluation and Credential

The AASPHM Draft Healthcare Recipient Sling and Lift Hanger Bar Compatibility Guidelines for public comment.
The American Association for Safe Patient Handling and Movement (AASPHM) has developed the Healthcare Recipient Sling and Lift Hanger Bar Compatibility Guidelines in order to provide information and recommendations about the compatibility of healthcare recipient slings and lift hanger bars. The Guidelines will assist healthcare facilities and organizations, healthcare workers, sling and lift manufacturers, and retailers to facilitate safe use of slings and lift hanger bars in any setting where healthcare recipients are lifted, moved and mobilized.
The AASPHM Sling Safety Committee is seeking public comment on the draft Healthcare Recipient Sling and Lift Hanger Bar Compatibility Guidelines.
After reviewing the Guidelines, please got to https://www.surveymonkey.com/r/sling and provide your feedback.
Comments must be received by 5pm ET on Friday, August 14, 2015. For questions or technical issues, please email info@aasphm.org
ANA Congressional Briefing on SPHM May 12, 2015
 As the agenda found below shows, ANA again arranged and moderated a congressional briefing advocating federal SPHM legislation. Two of our ASPHP Board members (Colin J. Brigham and Ronda Fritz) were panelists. Another ASPHP Board member, Dee Kumpar from Hill-Rom, demonstrated equipment use as did other vendor representatives from Hill-Rom and Hovertech International. Additional  information regarding this briefing may also be found below.
ANARelease_SafePatientHandling-Mobility_20150512

May 28, 2014 Congressional Briefing on Safe Patient Handling and Mobility
Attached are a news release from the ANA and the slide handouts from the subject briefing. The briefing was moderated by Jaime Murphy Dawson, MPH, Senior Policy Analyst – Nursing Practice and Work environment for the ANA. Comments from ANA President Karen A. Daley, PhD, RN, FAAN and Representative John Conyers (D-MI) can be seen in the news release. The other presenters were as follows:
Colin J. Brigham

, CIH, CSP, CPEA, CSPHP  – My Mother's Story

Ronda Fritz

, RN, BS, MA – The Impact of Comprehensive SPHM Programs

Robert Williamson

– The Costs of Injury and Alignment of Patient and Worker Safety
Further details regarding the speakers and the their presentations can be seen in their slides found below.
Following their presentations there were equipment demonstrations by HoverTech International (led by Dave Frederick and Isabell Werkheiser) and Hill-Rom (led by Dee Kumpar, RN, BSN, MBA, CSPHP and supported by Susan Gallagher, PhD, RN, MSN, WOCN, CBN, HCRM, CSPHP). The attendees participated in the demonstrations serving as both patients (care recipients) and care givers.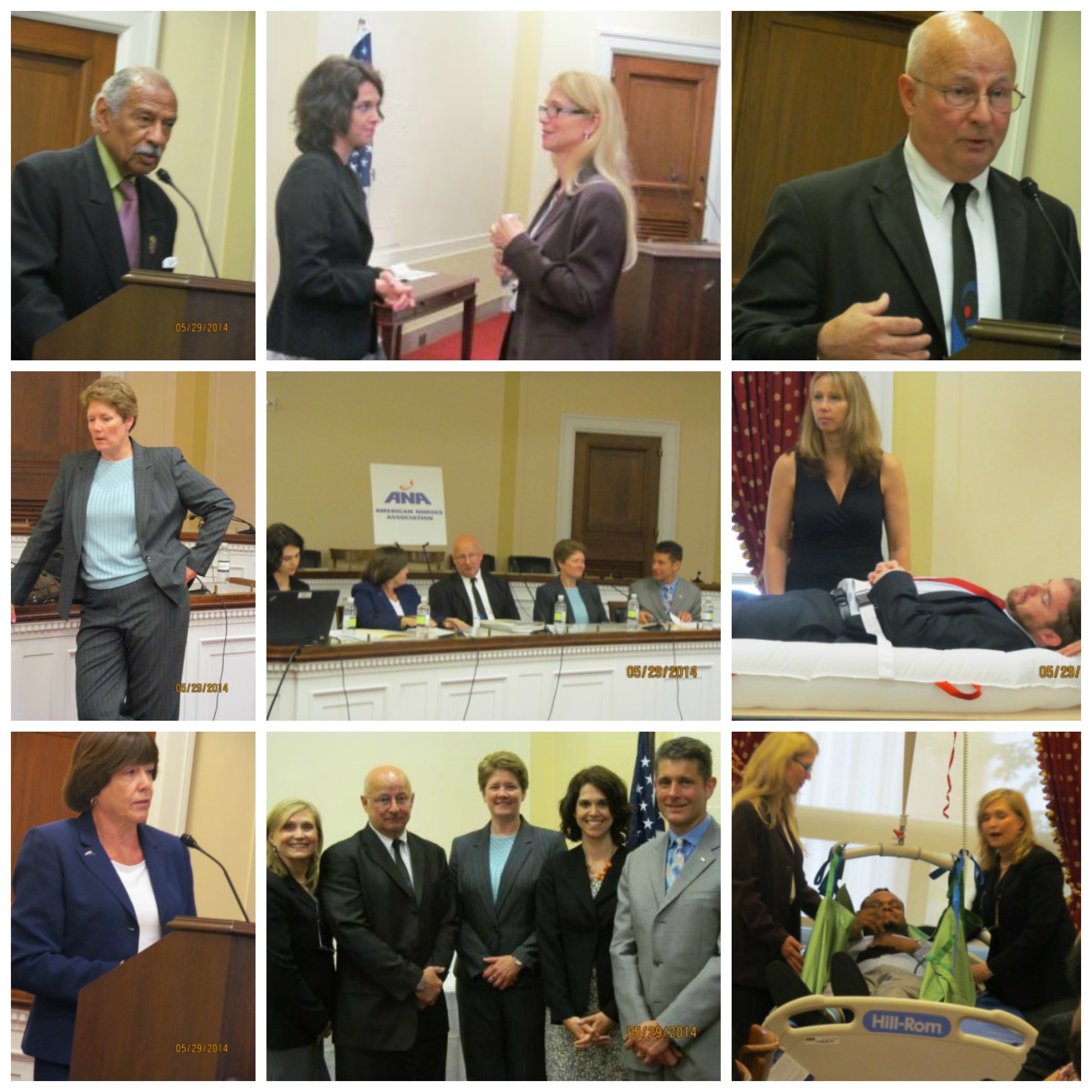 The heavy involvement by ASPHP Board members is made evident in this article as each of their names is underlined. We thank the ANA for their leadership in arranging for and hosting this event. It was a great way to provide congressmen and their staff a chance to hear and see "hands-on" the need for safe patient handling and mobility standards.
Sling Safety Issue
The ASPHP is one of six (6) professional associations that are part of an inter-organizational sling safety committee that is developing a guidance document related to sling and patient lift compatibility.  This effort is facilitated by the American Association of Safe Patient Handling and Movement (AASPHM).
The sling safety committee would like to hear from you about your experience with sling and lift compatibility.  Please take a few minutes to complete a brief survey and send along your thoughts.
Click Here for Survey

HR 2480   Nurse and Health Care Worker Protection Act of 2013
The ASPHP Board of Directors recently approved comments regarding HR 2480 known as the "Nurse and Health Care Worker
Protection Act of 2013".  Developed by the ASPHP Advocacy Committee, chaired by Colin Brigham, the comments were forwarded to the Honorable John Conyers, Jr. who is co-sponsoring legislation with the Honorable George Miller.
They're here!  The Safe Patient Handling and Mobility Interprofessional National Standards, released June 26, 2013!
The American Nurses Association (ANA), in collaboration with national subject matter experts, has developed national interdisciplinary standards to help health care organizations develop comprehensive, safe, effective, and enduring SPHM programs.  The standards are applicable across the care continuum.  To purchase the standards, click here.
Of the 29 experts that were heavily involved in the development of these standards, 13 were Board and general members of the ASPHP, including Suzy Harrington (Director of the ANA Department for Health Safety and Wellness) and Mary Matz who was the Chair of the work group.  Please read the article found below for full details.
Suzy Harrington and Colin Brigham presented a webinar sponsored by the ANA regarding the standards on June 19 prior to their release.  Suzy and Bob Williamson (ASPHP Board President) are slated to present an ASPHP webinar on July 10th.   Details here
We thank all for their involvement!

Cal/OSHA AB 1136, Safe Patient Handling – October 19, 2012
ASPHP offered additional comments regarding the Cal/OSHA draft of 9/28/2012
ASPHP Comments Submitted

ASPHP Helps ANA Develop Proposed SPH Standards
On October 29, 2012 the American Nurses Association (ANA) released the document Draft Safe Patient Handling and Mobility (SPHM) National Standards for public comment.  The comment period will be open until November 30, 2012.  The goal of these standards is to provide evidence-based and outcome-focused standards of care that will be applied by all disciplines across all settings where health care services are provided.  Please go to the link below to view the draft standards and provide comments.
The ANA pulled together 30 experts to assist in the development of these standards.  The ASPHP was well represented by 6 Board Members (Colin J. Brigham, Lena L. Deter, Ed Hall, Mary W. Matz, Rich Schleckser and Bob Williamson), 2 Board Advisors (Guy Fragala and Barbara Silverstein), and 4 general members (Colleen Christopher, Dee Kumpar, Myrna Callison and Kelsey McCoskey).  There are  8 standards included in this document.  Sub-groups worked on each standard.  Colin J. Brigham was Chair of the sub-groups for 2 of the standards, Colleen Christopher was Chair for 2 standards and Rich Schleckser was Chair for 1 of the standards.
The ASPHP views the development of these types of standards as one way to meet our mission: "To improve the safety of caregivers and their patients by advancing the science and practice of safe patient handling".
Click Here for ANA Press Release
Click Here for Draft Standards

ISO/PDTR 1226:  Ergonomics – Manual Handling of People in the Healthcare Sector
The subject draft technical report was developed on October 25, 2011.  The document is a technical report, not an ISO International Standard.  It was distributed for review and comment with a requested response date of January 16, 2012.  A group of ASPHP Board members reviewed the document and provided the comments that may be viewed in the attached document.
Click Here to read ASPHP Comments
ArjoHuntleigh has published an edited summary report which is provided below.
Click Here to Read

Cal/OSHA AB 1136, Safe Patient Handling – May 14, 2012
ASPHP participated once again in this ongoing discussion:
Cal/OSHA AB 1136, Safe Patient Handling Meeting – March 29, 2012
ASPHP submitted additional comments for consideration in the ongoing discussion.
Cal/OSHA AB 1136, Safe Patient Handling Stakeholders Meeting – January 24, 2012
On January 24, 2012 Cal/OSHA held an advisory meeting to discuss AB 1136, Safe Patient Handling  legislation that became effective on January 1, 2012.  The ASPHP submitted a statement for the public forum:
ASPHP Statement Cal OSHA January 2012

The Board of Directors of the Association approved and submitted a Position Statement regarding the restoration of the MSD column to the OSHA log in June, 2011.
Click Here to Read Position Statement